Large Passenger Vans with a Multitude of Seating and Cargo Space Possibilities
Ford E-350 Club Wagon Seating Configuration
The E-350 Club Wagon offers a great many possibilities. As shown in the illustrations above, these vans have a maximum capacity of 15 people. And sometimes, that is exactly what you need—to simply transport 15 people. But the beauty of variety is displayed above.
11-Passenger Van with Extra Cargo Space
By removing the back bench, the former 15-passenger van becomes a great vehicle for transporting 11 people AND their luggage, equipment, instruments, or golf bags.
8-Passenger Van with Deluxe Cargo Space
Have 8 people and 8 sets of golf clubs? Again the "15-passenger van" is the perfect choice. Without the back two benches, there is just about 5 feet by 5 feet of cargo space.
Where we find this comes in particularly handy is for a group of golfers who, with their clubs and luggage, cannot quite fit into a minivan. If you have 8 people and think you would prefer an SUV, check out the Ford Expedition
Serving Phoenix for 48 Years
We have been serving Phoenix for 48 years, and whether you need a vehicle for 8, 11, 12, or 15 people, PHOENIX DISCOUNT Van & SUV Rental is sure to have the right van or SUV to fit your needs.
With the seating capacity to accommodate from 1 person to 15 people, plus luggage, equipment or golf bags, we regularly rent these large passenger vans to groups, such as:
Family Reunions
Club Soccer
Men's Senior Baseball
NCAA College Sports Teams
WAC Teams
Church Groups
School Groups
Corporate Retreats
Musicians
Removing the Back Bench Creates Room for Cargo Space
Luggage Space is increased when removing the back bench that provided seating for 4. Now the van seats 11 people.
Seating for 15 – Luggage Space is Limited
All seats in the Ford E-350 and Chevrolet Express Vans are removable, except for the driver and passenger seats. With seating for 15, there is no space behind the back bench as illustrated above.
Four Rows of Bench Seats
Behind the driver and passenger seats are four rows of benches. The first three benches seat 3 people each. The back bench seats 4. With the driver and passenger seats, that brings the total seating capacity to 15.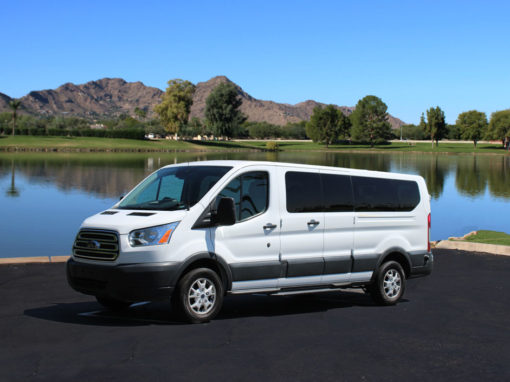 [/db_pb_fullwidth_portfolio]