DON'T SPEND YOUR TRIP WATCHING THE MILEAGE!
PHOENIX DISCOUNT Van & SUV Rental offers unlimited mileage. Most large passenger van rental companies don't charge the renter for the first allowable miles but charge a per mile rate for every mile thereafter. Consequently, once you go over the allowable miles, you spend the rest of your trip fretting about how many miles you are traveling and what that is going to cost in extra mileage charges. At PHOENIX DISCOUNT Van & SUV Rental, we want you to focus on your trip, your golf game, moving ahead in your tournament, your family reunion, or enjoying your family trip to Disneyland.
Call today for special group and team rates. With a fleet of over 100 vans, we can accommodate your multi-van rental needs.
PHOENIX DISCOUNT Van & SUV Rental does not offer promo codes, coupons, or discounts on rates beyond what you will find when calling for an estimate.  Because our rates start out being the lowest we can possibly offer, we do not discount for AAA, AARP, frequent traveler status, etc.  We don't want you to have to search all over the Internet to find a great deal.
With one exception:  We want to recognize and thank those serving our country and our communities. Present your military or law enforcement ID, and we will be honored to offer you a free upgrade as a thank you.
We will also not promote a rate we will not honor.  For example, there are advertisements on the Internet for rentals "starting from $8.99 per day."  And clicking on these ads leads to price estimates far above the advertised price. The reason you can't get anyone to reserve that rate for you is because they don't actually exist.  These ads, placed on the Internet, are there to draw you in and lead you to believe your particular needs can only be met at a much higher rate.
We pride ourselves on offering rates that are, in our opinion, below our competition…our true competition, companies actually renting vans and SUVs, not advertising false rental rates on the Internet.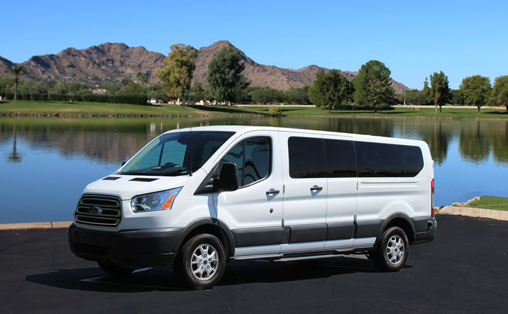 The Ford E-350 Club Wagon, Chevrolet Express Van, and Ford Transit Van all have 5 rows of seats, and at maximum capacity, seating for 15 people.  The Club Wagon and Express Vans have the capability of removing seats to accommodate various seating and cargo configurations.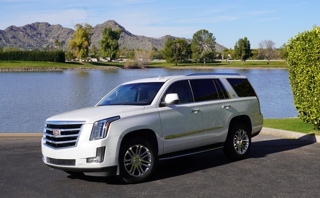 PHOENIX VAN RENTAL carries a full line of mid-size and large SUVs, including the Chevrolet Suburban, GMC Yukon, Ford Expedition, GMC Denali, Chevrolet Tahoe, and Ford Escape. Additionally, the luxury Cadillac Escalade and Cadillac Escalade ESV are available to rent as well.
For leg room and luggage space, rent a Dodge Caravan or Chrysler Town & Country minivan. Perfect for 7 passengers, 4 people with golf clubs or 2 people with lots of luggage.  A variety of passenger and cargo positions allow for a wide choice of seating configurations.
PHOENIX DISCOUNT Van & SUV Rental features Ford, GM, and Chrysler Vehicles
Need to Rent a Car or Pickup Truck?
PHOENIX DISCOUNT Van & SUV Rental offers many services the others don't. A few of the reasons to give us a call include:

We Accept OUT-OF-STATE Driver's Licenses
We'll

cover the cost

of your transportation to us from Phoenix Sky Harbor Airport**
**Use discount code TRANS and the cost of your Uber, Lyft, or Taxi fare from Phoenix Sky Harbor direct to us will be deducted from the rental charges.
*There is an additional fee for using cash to secure a rental. Please call today to learn more.
WE DO NOT RENT VEHICLES ONE-WAY.
All rentals must be returned to the Phoenix location from which they were rented.
The Fine Print:
The base rate is in addition to applicable surcharges and taxes
All cargo space capacity is approximate
We book vehicles by category and do not guarantee exact models
Seating configurations and luggage space photos are for illustrative purposes only
With two locations in Phoenix, Arizona
PHOENIX DISCOUNT Van & SUV Rental is Conveniently Located and Easy to Find!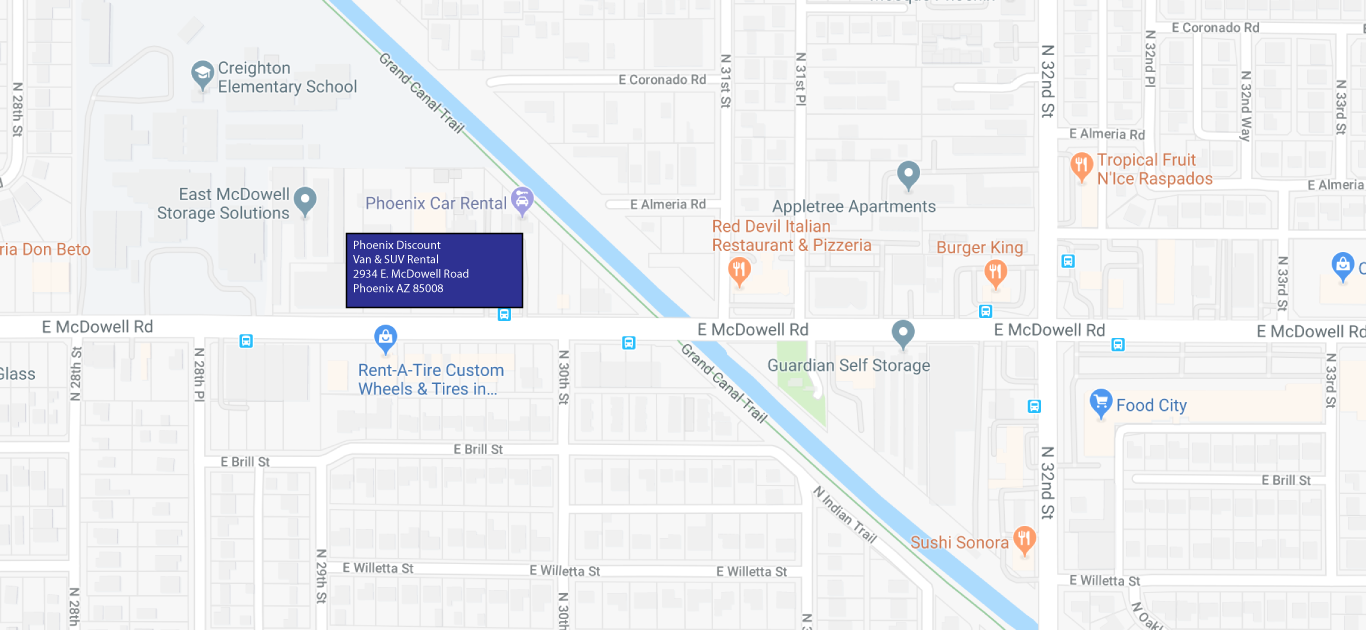 Phoenix Sky Harbor Location
2934 E. McDowell Road
Phoenix, Arizona 85008

We accept cash, debit cards, Visa, American Express, Discover, and MasterCard, for payment, as well as for security deposit.
Phone lines open 365 days a year!
Airport Location
2934 E. McDowell Road
Phoenix, Arizona 85008
After Hour Rentals (Appointment Only)**
*additional charges may apply
**additional charges will apply