Basic, No-Frills
We rent large passenger vans, minivans, and SUVs. And together with our sister company, Phoenix Car Rental, we also rent cars and pickup trucks. For over 45 years we have followed a pretty basic, no-frills business model. Variety is important. It is important for consumers to have a choice. Not everybody wants the same product or service. At PHOENIX DISCOUNT Van & SUV Rental, we recognized that many renters are looking for something simple: the best rate and a basic mode of transportation.
Independent
Independent not only describes us, it also describes our customers. Renters with an independent spirit, looking for the best rate, know that following the crowd to the bus that takes you to the fancy facility and charges extra for the privilege of doing so, is not the only way to rent a car, van or SUV. Off-airport isn't a difficult process. It just isn't what everybody else is doing.
No Airport Fees – No Fancy Facility
In order to deliver the best rental value, we look to provide customers with what they need, not what they don't. Our rental agents don't attempt to upsell add-ons or sell gas you won't use. Our offices are off-airport, on a piece of property that isn't as pretty as the airport facility, so we don't have to charge our customers extra fees for rent and storage in addition to the cost of the rental. We offer unlimited mileage, rent to people 18 years and older, and we accept Cash. These are just a few of the things that make us unique.
Some of the services that distinguish us from national rental companies: 
Call and talk to a person!

We are open on Sunday

We don't run credit checks

We rent Vans and SUVs at discounted rates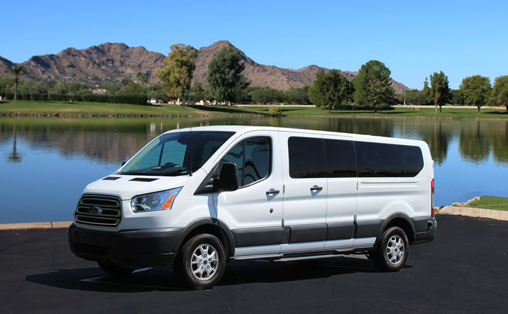 The Ford E-350 Club Wagon, Chevrolet Express Van, and Ford Transit Van all have 5 rows of seats, and at maximum capacity, seating for 15 people.  The Club Wagon and Express Vans have the capability of removing seats to accommodate various seating and cargo configurations.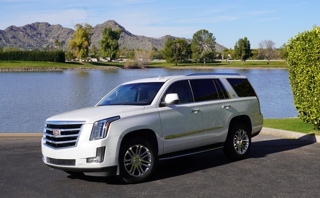 PHOENIX VAN RENTAL carries a full line of mid-size and large SUVs, including the Chevrolet Suburban, GMC Yukon, Ford Expedition, GMC Denali, Chevrolet Tahoe, and Ford Escape. Additionally, the luxury Cadillac Escalade and Cadillac Escalade ESV are available to rent as well.
For leg room and luggage space, rent a Dodge Caravan or Chrysler Town & Country minivan. Perfect for 7 passengers, 4 people with golf clubs or 2 people with lots of luggage.  A variety of passenger and cargo positions allow for a wide choice of seating configurations.
PHOENIX DISCOUNT Van & SUV Rental features Ford, GM, and Chrysler Vehicles
Need to Rent a Car or Pickup Truck?
PHOENIX DISCOUNT Van & SUV Rental offers many services the others don't. A few of the reasons to give us a call include:

We Accept OUT-OF-STATE Driver's Licenses
We'll

cover the cost

of your transportation to us from Phoenix Sky Harbor Airport**
**Use discount code TRANS and the cost of your Uber, Lyft, or Taxi fare from Phoenix Sky Harbor direct to us will be deducted from the rental charges.
*There is an additional fee for using cash to secure a rental. Please call today to learn more.
At PHOENIX DISCOUNT Van & SUV Rental, we strive to make renting a Large Passenger Van (seating 7, 9, 11 or 15 people), a Minivan, or an SUV affordable and accessible, and we offer unlimited mileage and special group and team rates as well. With a fleet of over 100 large passenger vans, which seat up to 15, we can accommodate church groups, sports teams, schools, and corporate groups seeking to rent multiple vehicles.

We offer certain unique services, such as renting with Cash and renting to persons age 18-21, that are subject to surcharges. Please call today to learn more.
WE DO NOT RENT VEHICLES ONE-WAY.
All rentals must be returned to the Phoenix location from which they were rented.
The Fine Print:
The base rate is in addition to applicable surcharges and taxes
All cargo space capacity is approximate
We book vehicles by category and do not guarantee exact models
Seating configurations and luggage space photos are for illustrative purposes only
With two locations in Phoenix, Arizona
PHOENIX DISCOUNT Van & SUV Rental is Conveniently Located and Easy to Find!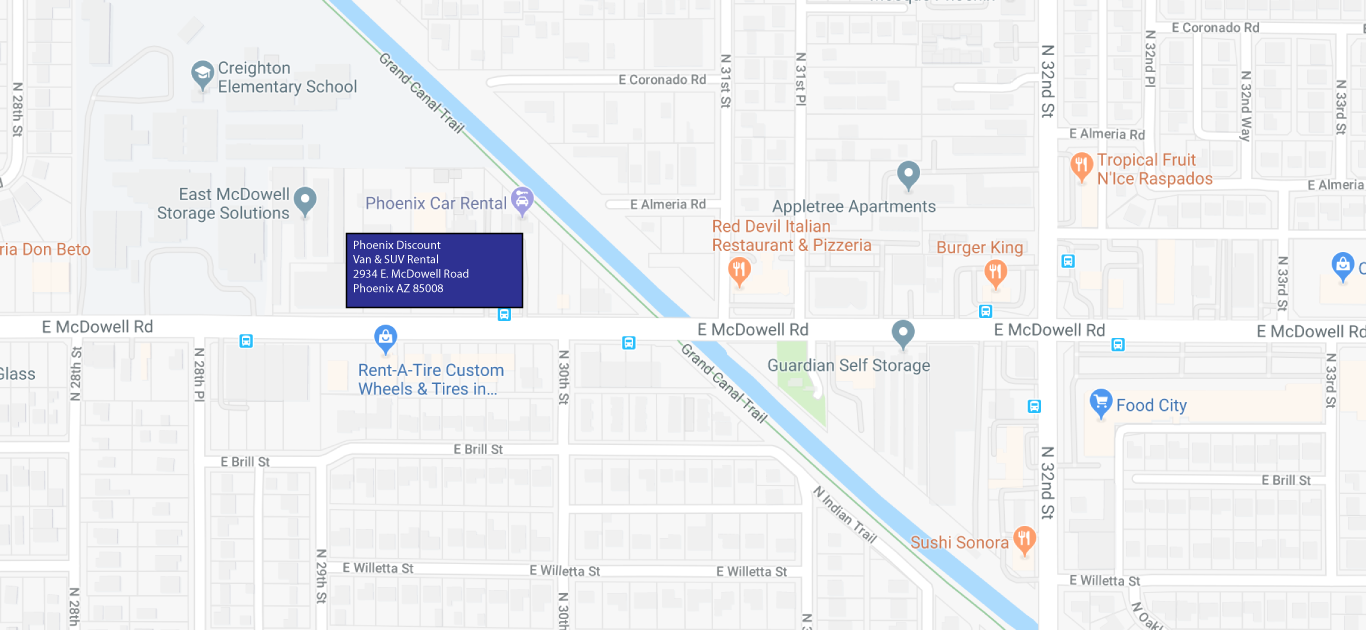 Phoenix Sky Harbor Location
2934 E. McDowell Road
Phoenix, Arizona 85008

We accept cash, debit cards, Visa, American Express, Discover, and MasterCard, for payment, as well as for security deposit.
Phone lines open 365 days a year!
Airport Location
2934 E. McDowell Road
Phoenix, Arizona 85008
After Hour Rentals (Appointment Only)**
*additional charges may apply
**additional charges will apply