OUR HISTORY
The year was 1971. While relaxing in his front yard after a long day's work, our founder was listening to his neighbor tell him a story about his failed attempts to rent a truck. He had spent the day with a wad of cash in his pocket, looking to rent a pickup truck to help his daughter move into her new apartment.  He said It didn't matter how much money he had, no one would rent him the truck because he didn't have a credit card. In an effort to help his neighbor, our founder joined in the search for a company that would help. There simply wasn't one. At that time, if you didn't have a major credit card, there wasn't a rental car company in Phoenix willing to rent you a vehicle.   Speculating that his neighbor was not the only honest, hardworking person without a credit card needing to rent a vehicle, our founder began to slowly build a company focused on meeting the needs of this previously neglected segment of the market.
Initially, he bought a few used cars and pickup trucks and began renting them to people just like his neighbor—people who needed a pickup truck to move furniture, folks whose car was in the shop for repairs, and families needing a larger vehicle to travel to California. In the more than 45 years since then, the company has grown and so has the customer base. For example, people with credit cards who qualify to rent at the national companies often come to us instead. Because when basic, dependable transportation will do just fine, they find it isn't necessary to pay brand new prices.  We have discovered over the years that the reasons to rent from an independent, reliable used van and SUV rental company are as varied as the customers. Our renters include:
people who have credit cards but want the cheapest rental possible

people with bad credit history, or other credit issues
In addition to the customer base growing over the past four decades, our fleet has grown from those few cars and pickup trucks to include hundreds of vehicles, including cars, large passenger vans, minivans, and SUVs.
Because the pioneer company is named Phoenix Car Rental, we started PHOENIX DISCOUNT Van & SUV Rental to offer a more refined presentation of vans, minivans, and SUVs exclusively.  By segmenting out this part of our market and creating a supporting website, we are able to efficiently aid our customers in their van and SUV search, providing the convenience of not having to sift through car rental information.
A lot of things have changed in the last four decades, including the introduction of debit cards. And while we do accept those as well as cash and credit cards, the foundational goal that gave rise to PHOENIX DISCOUNT Van & SUV Rental is still the same. We do everything we can to rent to qualified renters who, whether due to credit issues, age restrictions, or lack of a credit card, cannot rent elsewhere.
For those occasions when a 5-passenger vehicle does not offer sufficient passenger or luggage space, PHOENIX DISCOUNT Van & SUV Rental has the vehicle you need.
If, however, you are looking for a  5-passenger car rental, please visit us at Phoenixrentalcars.com.

At PHOENIX DISCOUNT Van & SUV Rental, we strive to make renting a Large Passenger Van (seating 7, 9, 11 or 15 people), a Minivan, or an SUV affordable and accessible, and we offer unlimited mileage and special group and team rates as well. With a fleet of over 100 large passenger vans, which seat up to 15, we can accommodate church groups, sports teams, schools, and corporate groups seeking to rent multiple vehicles.

We offer certain unique services, such as renting with Cash and renting to persons age 18-21, that are subject to surcharges. Please call today to learn more.
WE DO NOT RENT VEHICLES ONE-WAY.
All rentals must be returned to the Phoenix location from which they were rented.
The Fine Print:
The base rate is in addition to applicable surcharges and taxes
All cargo space capacity is approximate
We book vehicles by category and do not guarantee exact models
Seating configurations and luggage space photos are for illustrative purposes only
With two locations in Phoenix, Arizona
PHOENIX DISCOUNT Van & SUV Rental is Conveniently Located and Easy to Find!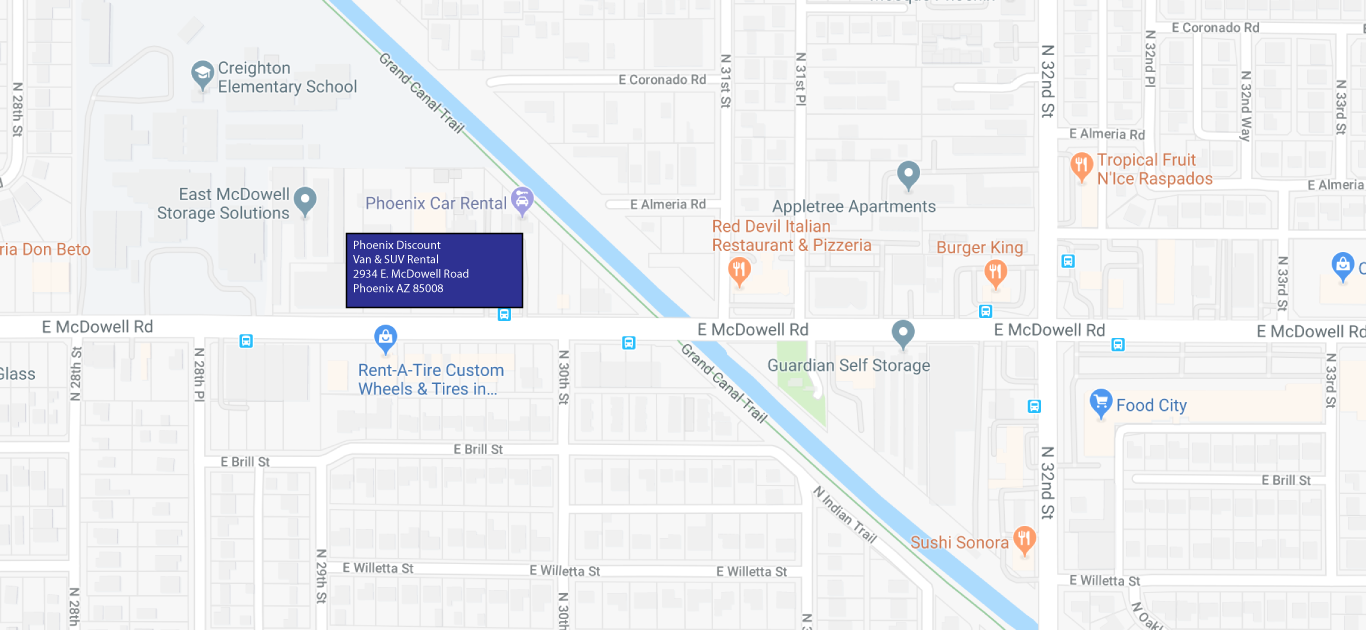 Phoenix Sky Harbor Location
2934 E. McDowell Road
Phoenix, Arizona 85008

We accept cash, debit cards, Visa, American Express, Discover, and MasterCard, for payment, as well as for security deposit.
Phone lines open 365 days a year!
Airport Location
2934 E. McDowell Road
Phoenix, Arizona 85008
After Hour Rentals (Appointment Only)**
*additional charges may apply
**additional charges will apply